Sophomore Brings Passion Project to Campus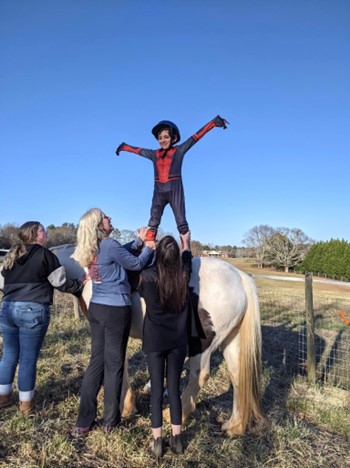 One chilly March morning, Spartans were greeted by an unfamiliar sight in the Bertelsmann Amphitheater. Students' faces lit up with excitement as they saw two ponies standing on their campus. In addition to these furry visitors, there was a sweet treat available for purchase. Happy teens munched on donuts as they pet the ponies, a great way to begin the day. 
The master behind this event was Athens Academy sophomore Millie McLanahan. Wanting to spread awareness about Butterfly Dreams, a nonprofit organization dedicated to providing therapeutic riding experiences, she organized a special visit from some of their horses, Peanut Butter and Jelly. 
Established in 2005, Butterfly Dreams allows children with special needs to have the opportunity to ride a horse while working on their behavioral needs.
After only volunteering since the start of 2021, McLanahan has already found herself fully immersed in this wonderful establishment. 
"Being at Butterfly Dreams is my happy place. The environment is so amazing. Seeing the effect horses have on children is quite impactful," McLanahan said. 
McLanahan typically volunteers Monday through Thursday doing work ranging from prepping horses to helping out instructors with lessons. Feeling like she owed something to the farm and the people that serve there, she took the initiative to bring the ponies and donuts to campus. 
"I wanted to do the donut sale to raise awareness of the place that is honestly like home to me. Raising money for the farm is the least I could do to attempt to give back to the farm," McLanahan said. 
The proceeds went towards horse equipment so that Butterfly Dreams is able to successfully help individuals reach their physical and emotional goals. McLanahan's work to bring part of the farm to the school shows her diligence and dedication to everything the program is about. 
Beth Farmer, Upper School dean of student life, has been McLanahan's mentor and helped her with her goal of making students aware of these volunteering opportunities. Farmer thinks highly of McLanahan for her endless work with Butterfly Dreams.
"She's always been passionate about it. It's made such an impact on her, and she's really committed to them because she's seen the result of what this kind of therapy can do for others. I think it's rare at her age to have something that you're already so passionate about," Farmer said. 
Butterfly Dreams not only taught McLanahan how to serve, but it showed her how even a small action can change the community for good. She is grateful for everything it has done for her and she encourages all to volunteer at the farm. 
"Anyone and everyone is welcome to come out! Horse experience or not, you will learn tons! Anyone can contact me or the farm if they are interested in getting involved," McLanahan said.