ACAD Inductions Produce Sweet Music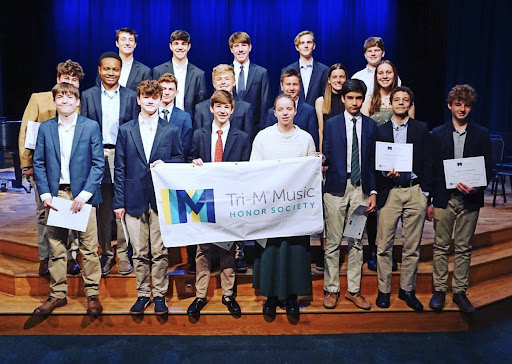 On March 23, 2023, Athens Academy inducted nineteen members into its Tri-M Music Honor Society. These members included Asa Wintershire, Reese Walton, Charlie Walton, Kate Sullivan, DJ Street, Weston Smart, Tucker Rhodes, Finn McElroy, Kai Kelly, Brooks Johnson, Alex Hollenback, Riley Harding, Henry Thomas Garrard, Miller Cooper, Nina Kline, Will Dugas, Charlie Vaughn, Roman Ritchey, and Jackson Memler-Jones. 
The Tri-M Music Honor Society is a national organization that joins together high schoolers who play musical instruments or have an appreciation for music. At Athens Academy, most people in high school band and orchestra are members of the Tri-M Society. 
The induction in March opened with Piano Sonata No. 3 (Norman Dello Joio) played by a current member of the society, Bailey McCurdy. Next, the officers of the society shared some of the key values and traditions that come with the Tri-M Society. The short induction ceremony was finished with a picture and a refreshment table with punch and cookies. 
"I was excited to join Tri-M because we get to give back in the community and it gives me an opportunity to be part of a great organization," Weston Smart said, a freshmen inductee for Tri-M. 
Will Dugas said, "It also feels really good to be a part of something to support our schools fine arts programs. I've been playing the violin for around 9 years so it makes me really happy to know I am a part of something that contributes to supporting and fostering a new love for music in younger generations around the world."
Tri-M Music Honor Society is an example of ACAD's diversity and highlights our students' talents. Members help volunteer during Lumineria, other musical performances, and during Artscapes. The society has been established since 1983, and its tradition has a bright future and can hopefully be continued for many more years to come.