Black Panther: Wakanda… Forever?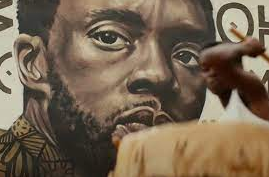 After the passing of star Chadwick Boseman, new heroes must fight and protect Wakanda in Ryan Coogler's latest film, Black Panther: Wakanda Forever.
The film follows the struggles that the country of Wakanda faces after the passing of their king, the Black Panther. Shuri (Letitia Wright), Black Panther's sister, must find the right path for herself, and for the fate of her kingdom, where there is not always a clear solution. 
Dramatic tensions between the hidden kingdom of Talokan, led by Namor (Tenoch Huerta), and Wakanda are set after the USA's search for the precious metal vibranium. When the USA starts to find vibranium on the floor of the deep ocean, they are suddenly attacked by people from the water, who are singing Siren songs and dismantling the sea base. The attackers, led by Namor, confront the Queen of Wakanda, blaming them for exposing the existence of vibranium to the world and putting the kingdom of Talokan at risk of being discovered. 
The film is plagued by the absence of Chadwick Boseman, though it gives respect and recognition to him consistently throughout the movie. Letitia Wright does an excellent job stepping into the role as the protagonist of the story in this movie. She uses her grief as motivation, and her relationship to her brother and his legacy can be felt in all moments throughout the film. 
After the release of Black Panther in 2018, there were many complaints about the visual effects and the CGI used in the film. Black Panther: Wakanda Forever cleaned up all parts of the after effects process to make the film look stunning.
Whilst the film does have many strongpoints that create an enticing first and second act, the movie feels formulaic and less interesting in the third act. The final act feels separate from the first two, with characters making simple resolutions that the entire conflict was originally based on. This lack of connection in reasoning between the first two acts and the third leads to a relatively unsatisfying ending for viewers trying to understand and relate with the characters. 
Black Panther: Wakanda Forever is worth a trip to theaters if you want to appreciate great cinematography, stellar performances, and the life Chadwick Boseman glorified to the highest degree.