Molly's coffee: Convenient and Crazy-good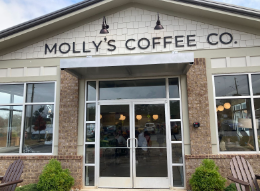 Molly's Coffee Company is a local coffee shop on Macon Highway only 3 minutes from Athens Academy. They strive to support their community through serving delicious coffee in a friendly manner. Coffee, Community, & Kindness win!
Anybody who knows me knows that I LOVE coffee, so you can rest assured that my review of Molly's is not without the proper pre-requisite experience. Plus, I go there so often that I've had to start limiting myself to twice per week because a teenager's bank account isn't exactly bottomless. In case that's not enough to convince you, Mrs. Street loves Molly's too!
"They have an inviting atmosphere, wonderful drinks, and delicious baked goods – everything you could ever want in your neighborhood coffee shop," Street says.  
The menu features all your standard coffeehouse favorites (espresso, latte, americano, cold brew / whole milk, almond milk, etc) as well as creative seasonal offerings. One of my personal favorites at Molly's – and a classic for sure – is their cappuccino. If I want a more flavorful coffee for the weekend, I'll order the mint mocha or the vanilla latte.  Love a coffee shop but not the coffee? Don't worry, coffee-haters, they also offer Kombucha, hot tea, sparkling waters, and other non-coffee drinks.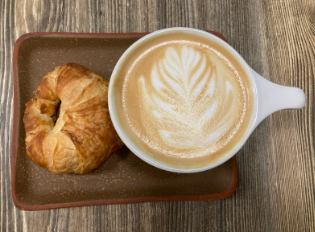 With coffee beans from 1000 Faces and treats from Kiki's Bakeshop, you get to support 3 local businesses in one stop! Croissants, muffins, scones and cookies are just a few of the items you'll find behind the display counter. A warm coffee and fresh croissant make a delightful breakfast. I highly recommend the blackberry lemon scone: it has a crispy outside filled with a fluffy blackberry inside and topped with a sour lemon glaze to balance it all out – yum.
When the barista asks if you would like your pastry warmed up, you'll want to say "YES!" (if you go there enough, they don't even ask anymore).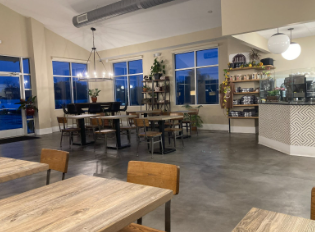 The atmosphere is so warm and welcoming that you can't help but sit down and take a moment to enjoy your coffee, which is something we all need a little more of these days. There are plenty of indoor seating options, and there's also a few outdoor tables if you're wanting to sit outside on a blue sky day.  An extra bonus is that Molly's provides separate bins for compost, recycling, and trash. The fact that the business cares about the environment tells you a lot about the company's goals as a whole.
And you gotta love that drive-thru that gets you in and out in minutes, so you can enjoy your coffee and snacks on-the-go. The drive-thru, combined with the 3 minute drive to school, might just be the most dangerous feature for a coffee-loving Spartan.
Not to condone forgetting your wallet, but Mrs. Street did it once, and she claims, "The barista at Molly's gave me my order with a smile anyway. I am so very thankful for that trust!"
Support Molly's next time you're looking for a reliable, sustainable, and idyllic coffee shop. It's super close to school, has kind-hearted and experienced baristas, and serves delicious local coffee & pastries! 
"Having a place you can go to work, study, chat or just read in comfort is such a pleasant feeling, and for many people, Molly's is exactly that place!" Street says.