What is Lent?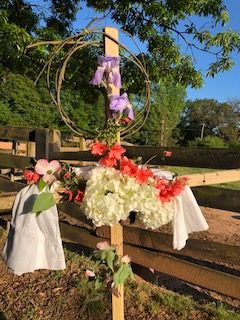 On Wednesday, Mar. 2, 2022, the forty-day period known as Lent began. Lent is the time that Christians all over the world begin preparing for Easter, the day that Jesus rose from the dead, through prayer and forms of fasting. The term "fasting" is relative, as fasting can be done in many different forms. It can mean choosing to only eat one or two meals a day, giving up a favorite food, or even something completely non-food related, such as giving up a practice or habit.  The word Lent comes from the term "lencten," meaning spring. 
Lent always begins on Ash Wednesday and continues until the official Easter holiday. Lent is a total of forty days but does not count Sundays, which gives some people an excuse to not  fast on Sundays. The practice of fasting was created to recognize the time period in which Jesus went forty days and forty nights in the desert without food before the beginning of his public ministry.
Ash Wednesday is typically a day that is celebrated  by attending a church service where the only difference from a typical mass service is that ashes are placed on the church attendants heads in the shape of a cross by the pastor or priest to commemorate the cross on which Jesus was crucified. The ashes come from palm branches that were burnt from the previous Palm Sunday. Palm Sunday is the Sunday before Easter and marks the Sunday on which Jesus rode into Jerusalem and was greeted by his followers waving to him with palm branches.
The Lent season culminates with Maundy (or Holy) Thursday and Good Friday, which commemorate the Last Supper and the crucifixion respectively. 
Church services are held on these days, but the way that these services are given varies from church to church and denomination to denomination. They are typically short services that are meant for people to pray and reflect on Jesus' sacrifice. 
Finally, Easter is celebrated the Sunday after Good Friday to commemorate the day when Jesus rose from the dead. 
Easter is celebrated in many different ways, but my family celebrates Easter by attending a sunrise service followed by a breakfast with the congregation of our church and then a traditional church service. Finally, we eat lunch together as a family.