Local Nonprofit Looks Up To The Stars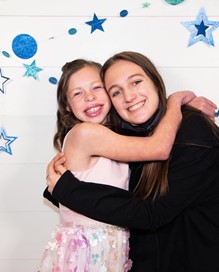 ESP, a local nonprofit that creates transformative experiences for people with special needs,  hosted their annual Big Hearts pageant and gala on Feb. 11 and 12. This event gives people with special needs the opportunity to shine on stage while they are celebrated for who they are. Thousands of viewers around the country tuned in to the virtual talent show, and members of the Athens community gathered in the Classic Center the next day to raise funds for ESP's mission. 
Big Hearts brings together members of the community with the children and families it serves. It's an opportunity to shine a spotlight on the abilities of some of Athen's most big-hearted individuals, while leaving their disabilities in the wings. 
ESP's CEO, Laura Whitaker, said her favorite part of Big Hearts is seeing members of the community celebrate people with disabilities, whether that be laughing at a joke or cheering them on their TikTok dance moves. 
Big Hearts is an exchange of ESP participants showcasing their abilities and community members supporting them. "Our friends proudly showcase the goodness that God created in them through their abilities while our community responds by giving to the best of their abilities," Whitaker said. 
ESP participants take the stage, and each perform an act for the audience to watch. One participant, Molly Kate, did sign language to "True Colors." 
"My favorite part about Big Hearts is meeting friends who have special needs like me," Molly Kate said. 
Last year, because of Covid, this event was virtual. For Big Hearts 2022, ESP decided to combine a virtual talent show with an in-person gala, complete with a red carpet. 
"Some of our families were able to attend the gala for the first time, because in years past the day had been too long. Doing both the virtual talent show and in-person gala made for a long two weeks, but it was really cool to see the best of both worlds," Whitaker said. 
Each year, Big Hearts is centered around a theme. This year the event's theme was Be Bright, which challenged people to look up and see the stars in a time where it is so easy to look around and see challenges. 
"As I pray and prepare for the Big Hearts theme, I look for mentorship and scripture to see where I feel like God is leading us. One of my mentors gave me a poem by Henry Drake about a sailor in the middle of the sea who looks up, and says that in the middle of the sea  is where you find the stars," Whitaker said. 
While Big Hearts is only once a year, Whitaker encourages people wanting to get involved to join the ESP Fan Club. The club not only supports ESP financially, but also spreads ESP's mission. 
"It encompasses that exchange I mentioned, because it gives the opportunity for people to celebrate people with all abilities, while also showing their support for ESP," Whitaker said.