New Year, New World Languages Teacher
As she stands in the middle of her classroom watching her students react with glee at the idea of playing Kahoot and Quizlet Live, Jessica Luzardo cannot help but smile. To her surprise, these games have found a permanent residence in the hearts of her students. 
With her calm and comforting presence and previous work experience, Luzardo has joined the World  Languages Department as both a French and Spanish teacher and has made a wonderful addition to the Athens Academy staff for the 2021-2022 school year.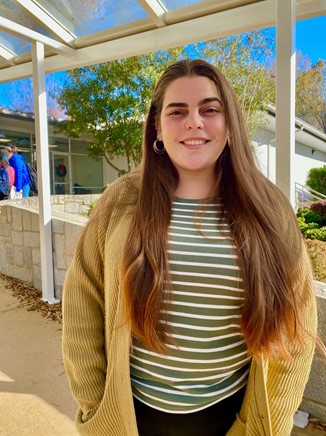 "I always knew that I wanted to be a teacher. In undergrad while I was studying Spanish and French in my majors, I had found myself tutoring other students and showing them what I was doing. I guess that was my beginning," Luzardo says. "I've known how to speak Spanish since I was born, since that is the language that I speak at home with my family. It was later in school that I learned English and in high school that I learned French."
Luzardo grew up in New Jersey and lived there until 2014, when she moved to the South for college. She attended Lee University for her undergraduate studies and majored in world languages. She later went on to attend the University of Southern Mississippi, where she was a graduate instructor while earning her master's degree.
Although there was a brief adjustment period when Luzardo transitioned to working with high school students, she was able to quickly adapt her teaching style to fit students' needs. She has been giving students more chances and opportunities, as well as handing out more study guides.
"Ms. Luzardo has been a great teacher so far this year. We have learned so much and have been having so much fun while we do it," says junior Anna Porter Miller, Spanish IV student. 
While the majority of her freshman students are still shy, Luzardo thinks that they will grow out of their shells as the years progress and will follow in the footsteps of their older peers by being less afraid to express themselves with their teachers. 
"Most people like to talk about their own personal lives and it is all good in a world language class because in a world language class, all we know how to do is talk about ourselves. If people are already talking about themselves in English, then having students do it in another language is easier," Luzardo says. 
Compared to her own high school experience, Luzardo notes that students at Athens Academy are much more open to speaking with teachers. She loves the culture of the school and finds it very nice how everybody on the campus is eager to connect with one another.
"I like talking to students here, they are surprisingly very funny, but as their teacher, unfortunately I can't always laugh," Luzardo says. "There are so many things that I want to do with my students, like teaching outside, but I have a lot more time here to do that."