Bump, Set, Spike: A Volleyball Season to Remember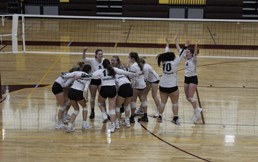 This season, the volleyball team went above and beyond their expectations and goals. Their record was an astonishing 42-3, and they ended the season as runner-up in the state championship (their first time back since 2010).
"Losing only one senior helped us grow closer together. We didn't lose the whole group of girls, so it was easier to play with each other on the court. It really felt like a family," junior and varsity player Emma Hooper says. 
Coach Jane Thomas seconds this, adding, "Our team chemistry was really good. We played together as a team and the girls remained focused and had a common goal in mind, which they worked really hard to achieve." 
There was a noticeable difference with the student section at both home and away volleyball games this season. The large turnouts helped push the team as hard as they could go, and Hooper credits them for the girls' confidence on the court.
"It's fun to look up and see the student section cheering! It created an energy that helped us keep moving forward. We really appreciate all of the support!" Hooper says.
Next year, the team hopes to make it back to state, and redeem themselves. 
"I am really excited for next year as I know we will be having lots of new talent coming into the volleyball program, as well as a ton of girls returning. I think we can have another extremely successful season and I can't wait to play with everyone again!" says Mara Thomas, junior and varsity player.
Hooper adds, "No matter the place or the girls, we will enjoy each other's company and make it to the last step. There's only one more place we can go!"