Prom in a Covid Year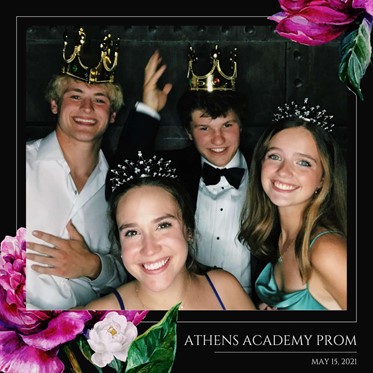 Prom, the most exciting night of the year for highschool students, falls close to the end of the semester amidst AP exams and final projects. It's one of only a few nights where students get to dress up and show off their dancing skills to all of their friends. But for this year's juniors and seniors, prom wasn't definite with Covid-19 cases on the rise, and the decision to have a dance was a tough one.
Deans of Students Brian Olson and Beth Farmer found that the planning of prom fell on their shoulders. Planning a large dance has always had its difficulties, but Covid-19 brought a whole new set of issues for them to solve. They questioned whether or not to even have a prom, where to host it, and how the community would feel about a large gathering during a global pandemic.
"One of the biggest challenges this year was the venue. You usually need to book a venue a year in advance and we had the Classic Center rented, but then when Covid hit, we knew that wasn't an option anymore," Farmer said.
Because Olson and Farmer work backscenes, their hard work can sometimes be overlooked by students eager to have some sense of normalcy. Students this year, though, recognized their effort  and dedication to provide them with fun activities.
"I couldn't have made a decision. It's a lot of pressure when a whole community is looking over your shoulder and I respect the deans and appreciate them immensely for working so hard to plan this," said Emily Morris, a junior at Athens Academy.
At the actual dance, safety precautions were mandatory and several were taken. The venue itself, for one, was precautionary with its open floor plan and outdoor space. Second, students were required to have face masks at the entrance. Third, any guest from out of school was required to take a Covid-19 or antibody test 72 hours prior to the dance. Lastly, the dance was optional, and those who didn't feel comfortable going to a gathering were not required to attend.
"I feel like the precautions we took were the right ones and balanced out safety and normalcy nicely," Olson said. 
Prom is one night out of the stressful school year to let loose with friends.  Athens Academy's community of hard workers banded together and were able to throw a fun, safe dance that provided students with a sense of normalcy in this crazy year.