Track and Field Wrap Up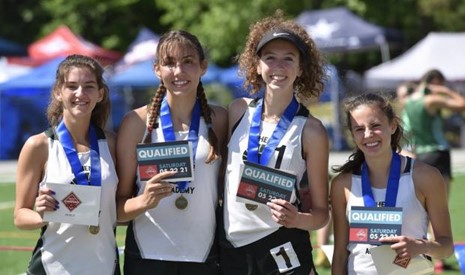 The time has come. After five months of hard work, the varsity track and field season has come to an end. Although practices are over, the team had their end-of-season track banquet on May 18 to celebrate all of our collective success. 
The 2021 team was extraordinarily young, with only five seniors and an underclassman majority. Of the 20 ACAD athletes who progressed all the way to the state competition, only three were seniors.  Throughout the state championship, some of our top athletes broke school records — a truly incredible feat. The girls 4 by 800 team (juniors Addison Ollendick-Smith, Nathalie Lavender, and Davis McLanahan, along with sophomore Sarah Harrison) set the new school record and won first place at 9 minutes and 36 seconds. Senior Deion Colzie set new school records in both the high jump (with a height of 6 feet 8 inches) and the 100 meter (time of 10.82 seconds). 
Many awards were handed out during the closing banquet, including the Rising Star Award (given to sophomore Sarah Harrison and freshman Austin McGee), the Rising Star Honorable Mention Award (given to juniors Mae Kline and Nathalie Lavender as well as freshmen Tom Hollingsworth and Ryland Marley), and the Spartan Award (given to junior Davis McLanahan and sophomore Jackson Scruggs). The Outstanding Track Award was also given to junior Addison Ollendick-Smith and senior Rob Sullivan, while the Outstanding Field Award was given to sophomore Emma Hooper and junior JJ Holt. The overall Outstanding Track and Field Award was given to seniors Kavya Menke and Deion Colzie for their work in the triple jump and the high jump, respectively. 
Overall, the girls team finished 6th in the state and the boys team finished 7th. With so many young athletes on the team, everyone is excited to see the track program continue to flourish with success.