Novus Magister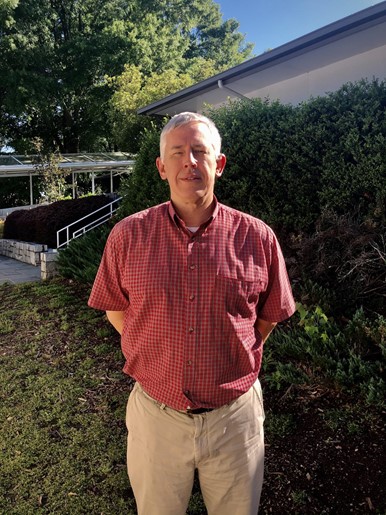 As he writes the declension charts on the clean whiteboard, Mike Butler is ready to instruct his eager Latin students. His classroom is filled with classical texts, like The Illiad, and pictures of ancient structures, like the Parthenon. His calm and collected stature suggests he is ready to explain the complicated rules and forms of the Latin language.
Butler is one of the newest teachers joining the Athens Academy staff for the 2020-2021 school year, and he is quite qualified for the position. He grew up in California and studied the Classics all throughout his education. Altogether, he has enjoyed his experience at Athens Academy.
"I feel like it has been an easy transition becoming a part of the community. I really enjoy that the students are eager to learn and always have a positive attitude," Butler said.
 Being a new teacher also presented some difficulties. Butler joined the faculty during a pandemic, and Covid-19 required a change in school policies and protocols in order for students and teachers to stay in school.
"The hardest challenge that I faced this year was the new block schedule. It was difficult to fit an entire school year into one semester, especially for the AP Latin students," Butler said.
 Outside of the classroom, Butler gives back to his community by volunteering at his church. He has dedicated his time to teaching young members of his congregation who were not fortunate enough to receive a good education.
"It was a wonderful experience getting to teach those boys because they were really interested and eager to learn new things," Butler said.
Butler also joined the staff knowing that the Latin program will be discontinued.  Once Latin is fully gone, he will become a full-time humanities teacher and continue to touch the lives of his students.
"Mr. Butler has been really patient with our class even though we can be disruptive. He has helped  build a solid ground for us to develop our skills in Latin," said Sarah Harrison, Latin III Honors student and sophomore at Athens Academy.