Spookily Splendid Halloween Movies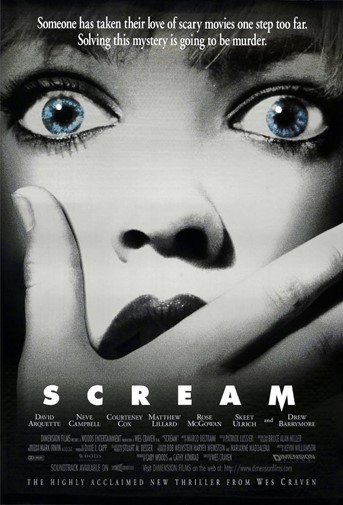 Scream (1996)
Released in December 1996, Scream quickly became a cult classic. Directed by Wes Craven and starring pop culture icons such as Courtney Cox, Drew Barrymore, and Patrick Dempsey (Scream 3), it is easy to understand why the Scream franchise continues to remain at the top of the list every Halloween. The plot follows Sidney Prescott and her friends who start considering the "rules" of horror films as the killer "Ghostface" embarks on a killing spree around town. With four films available to stream right now and a fifth installment coming this January, Scream will leave you wondering "What's your favorite scary movie?" 
Hocus Pocus (1993)
After 300 years of slumber, three witches are accidentally resurrected in Salem on Halloween night. With the help of a magical cat, it's up to three kids to put an end to the witches reign of terror and stop them from becoming immortal. This Halloween movie is far from scary, but nevertheless, another cult classic. The performances are charismatic and comical, unlike that of your typical Halloween movie. Hocus Pocus is a family-friendly movie that is perfect for starting off your Halloween movie marathon.
The Shining (1980)
"Here's Johnny!" The Shining, based on Stephen King's novel of the same name, proved revolutionary in the horror genre with its release in 1980. It includes the infamous "Kubrick stare," a closeup shot in which an actor creepily stares into the camera through raised eyebrows, as well as the most well-known use of the "creepy twins" trope with the Grady twins. The plot follows Jack Torrance, who accepts a winter caretaker job at the Overlook Hotel, where he, along with his wife and son, must live in isolation for the rest of the season. But, as they settle into their new home, Jack and his family soon realize they aren't prepared for the madness that lurks within. 
The Purge (2013)
One night a year, all crime is legal. In The Purge, the U.S government dedicates one night a year where "any and all crime, including murder" is "legal for 12 continous hours." The movie follows  the Sandin family as they navigate the annual Purge and protect themselves from purgers attempting to invade their home. This modern horror movie has everything. From the frightening jump scares, great laughs and satire, as well as stars such as Ethan Hawke, The Purge makes for an amazing modern Halloween movie.