One Last Brush Stroke With Mr. Graves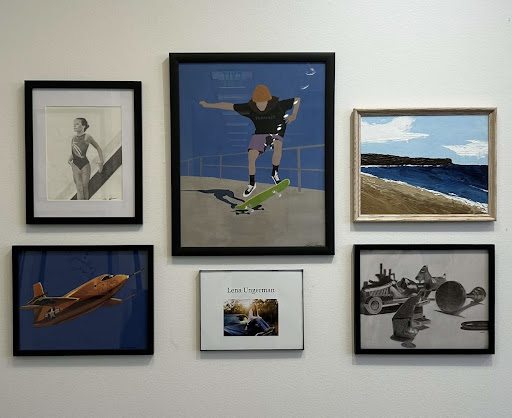 Athens Academy is home to a boatload of talented kids with a huge range of interests. This talent is widely recognized in things like Football, the spring play, and many more extracurricular activities. One place, however, possessing a lot of hidden talent is the art room. With multiple kinds of art classes offered to the students all four years of high school, kids are given a great platform to work hard and become extremely talented. Thankfully, seniors are welcome to take the Senior Portfolio Honors class, which gives students the opportunity to take their art to the next level. To conclude their art career at Athens Academy, each student is asked to make a portfolio, which is showcased in the Meyers Gallery for a couple of months towards the end of the year. 
While many students have been working hard to improve their artistic skills, they rarely get to show off their work. Luckily, the Senior Portfolio class offers this opportunity, allowing students to finally get some recognition for the hard work they have put in. Lena Ungerman, one of the artists featured in the exhibit, agrees that this class is overflowing with talent and says, "[I'm excited] to see everyone's accomplishments in art." 
Of course, this class, and art in general, is not just about getting some type of recognition. When Lena told me her favorite painting was of her brother, she explained, "Lately, I've been getting a lot closer to my brother". The painting, which holds a beautiful blue background, features an un-faced man performing an ollie on a skateboard. 
Along with other benefits, art can help people to express their emotions and what they are thinking. This allows people to be creative and create art in their own way. When asked what her favorite part of the upcoming show was, Hope Shellnut shared, "I think everybody has very different styles, but it's very cool to see them all put together in one space". Hope, who has been doing art since elementary school, has three paintings being shown in the exhibit, along with her homecoming dress, which she hand-sewed. "I've been painting and sewing now more than ever". 
Senior Portfolio is a great class for anyone who thinks they might have a fondness for art. It offers a chance to experiment with the things you have been taught in previous years and also allows you to have a little bit of a more personalized art experience. Hope expressed that, "Mr. Graves has facilitated such a wonderful space for me to be able to learn and also figure out my own style and what I like."
If you would like to see the talent and hard work that the artist in this year's senior class possess, you can see the exhibit hanging in the Myers Gallery, which will be up until April 28th, or you can attend the reception, which will be held on April 13th from 3:30-5:30 PM.