New Steakhouse?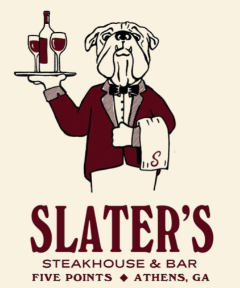 Homemade onion rings, savory steaks, and fresh desserts are a few things to look forward to at Slater's Steakhouse. Located in Five Points, Slater's steakhouse had its opening night on November 16th, 2022. LRG Provisions and Butcher and Vine were the previous restaurants where Slater's is currently. Unfortunately, both were relatively short-lived with Covid-19 partially to blame, so hopefully, Slater's and more local businesses are  here to stay.
Having recently dined at Slater's, I can now proudly recommend it to others. Poised as a formal to business-casual steakhouse, you can expect wonderful food for a price. They serve a variety of appetizers and starters to begin your experience. Their onion rings especially, have quickly become my favorite among their many. Made in-house, they go well with the included house aioli. One of the great things about Slater's is that so many ingredients are made in-house or sourced locally. This adds a higher quality to their high-end service and cuisine. 
Most notably, they serve steaks (it's in the name!), which are fabulous. Their selection includes an 8 ounce filet, 12 ounce NY strip, 16 ounce ribeye, a hefty 32 ounce bone-in ribeye, and a chef's cut. The chef's cut constantly rotates, adding extra options for those who choose to dine again. Pairable with each steak is housemade steak sauces. On top of that, shareable traditional sides are on the menu. For vegetarians or those who aren't looking for a steak, other entrees are available such as; chicken, trout, ravioli, beef, and duck. 
Having only been open for around 3 months, it has not become popularized just yet. If it can survive its first few years, it will almost certainly be here to stay. Athens is in need of more local restaurants like it, and to keep it running and get its name out there, people need to visit it and learn about it. 
There is much more that can be discovered when you walk into the restaurant. Reservations are allowed, and they are currently open Wednesday through Sunday, from 5 to 10 pm. We are in need of more locally-owned restaurants, so give it a try and let the food speak for itself.