Mrs. Babbitt – The Art of Track and Field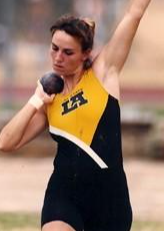 Mrs. Babbitt or Petra Babbitt was born Petra Juraskova in Czechoslovakia to parents Petr and Miluse Jeraskova. Petr, my dad, "encouraged me to do the best in everything I tried." As a kid, she was very feirce and she said, "I was very competitive and did not like to lose." When she was in lower school she was not interested in track and field and only discovering her love for it in late middle school. She soon moved to the U.S. at the age of 19. Luckily, the young Babbitt was very gifted in many track and field activities including javelin, shot put, discus, and hammer throw. Babbitt first attended BYU or Brigham Young University and while at BYU she won a Wac title. Later she went to Cal State in Los Angeles. She won 5 individual national championships here which threw Cal State into the mainstream for track and field and helped allow it to have one of the winningest programs in the country. Also while at Cal State, she won the 1996 and 1997 Athlete of the Year. She is the only athlete to ever win this honor in two consecutive years.
Babbitt helped the Golden Eagles win the CCAA 1996 team title. In this competition, she placed 1st in shot put and discus and scored 2nd in hammer throw. In the spring, Babbitt won the indoor shot put National title. Later that Spring at the NCAA National Championships, she won both of her top events, discus and shot put. She dominated again in 1997, at the CCAA Championships, winning the shot put, discus, and javelin titles, the javelin being her favorite event. In the NCAA National Championships, she won the indoor and outdoor shot put. Amazingly, she got All-American honors on 8 occasions! She still holds some top marks, with one of the top 5 marks in shot put. She also excelled in hammer throw, and especially discus, placing 7th in the Junior Olympics. In 2009 she was inducted into the Cal State LA Hall of Fame and the USTFCCCA Hall of fame in 2010. 
After her successes, Babbitt has become, as we all know, the middle school art teacher. She has a loving family: a husband, Don, who has transformed the Georgia track and field program from good to great. He coached Georgia's track and field program to 29 NCAA championships and 139 All-Americans. She also has two daughters: Veronika, who participates in javelin, and Julia, who competes on the Princeton track and field team. 
Interview:
Pierce: When was the first time you took interest in track and field?
Mrs. Babbitt:  In 8th Grade, at a ping pong tournament, a coach asked me to do high jump with his team because I was tall, and I won. I think I mostly won because I was competitive and really did not want to lose. After this, I went to a high school that was track and field specialized.
Pierce:  What was your greatest achievement and how did you have to face and overcome challenges to achieve this goal? 
Mrs. Babbitt: I got 7th in the world at the Junior Olympics in discus in South Korea. I wanted to have a social life and did not put as much effort as I would have liked into it, which was one of my regrets. I had cancer in my 2nd year and, that same year, I won the junior championship, so I was also proud of that.
Pierce: What was your favorite event in track and field, and why did you enjoy it?
Mrs. Babbitt: I liked javelin because I liked how people of all sizes could do it. 
Pierce: Who did you idolize when you were doing track and field?
Mrs. Babbitt: My friend always had a higher ranking nationally, so I competed with her and looked up to her.
Pierce: Who supported you the most while you were doing track and field?
Mrs. Babbitt: My dad. He used to come to my competitions and watched me compete, and he encouraged me to do my best at everything I tried.