Girl's Cross Country has a Successful End to the Season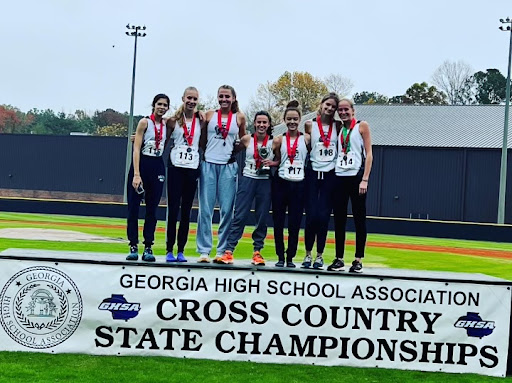 Going into the Cross Country State Championship, the Athens Academy lady Spartans were predicted to place second in the 2A Private division. Despite many obstacles they had to overcome, including widespread sickness throughout the team and a lack of hotel rooms the night before the race, the lady Spartans managed to pull off their predicted second-place finish.
Of the seven runners that raced in the State Championship that morning, three finished in the top ten out of almost two hundred runners. Sophomore Maya Davis ran an impressive 19:55, placing third overall. Not far behind, senior Sarah Harrison ran a 20:10 placing her fourth. In ninth place was sophomore Adelaide Ellis with a time of 21:07. These impressive finishes led the team to their finish at second place. All of the runners ran hard and closed the gap with Savannah Arts School, only missing first place by 20 points.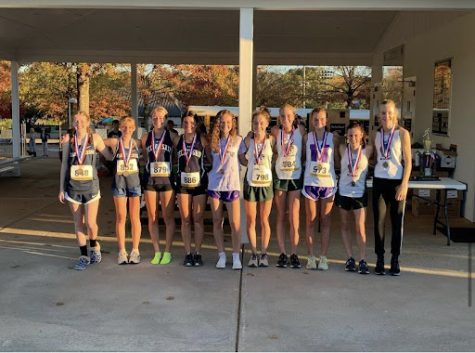 While many months of training were put into preparing for this race, the Spartans also had a large cheering squad that helped them fight through their races as well. Not only did the varsity runners travel to Carrollton for the state meet, but so did the rest of the team who provided encouragement and motivation for those who were racing. For those who are a part of the Athens Academy cross country team, this is known as "teamness." To Maya Davis, "teamness" means "team unity and supporting each other," which are two important aspects of any team sport.
The girls had a very successful season overall as well. At the Clarke Oconee Championship, three runners placed in the top ten and tied for first with Oconee. The girl's Clarke Oconee champion was Sarah Harrison with a time of 20:23, runner up was Adelaide Ellis with a time of 21:13, and in fourth place was Molly Smith with a time of 21:47. In the second home meet of the year, they had seven runners in the top ten. The girl's won this meet by 35 points. Most impressively, however, during the region meet, the girls claimed the championship title for the fourth consecutive year, with four runners placing in the top ten. During this meet, Maya Davis won the Region Champion title. 
The girls have done amazing things this year, and they look forward to another successful season of racing next year!