Just Dance in Dance Club 

Finally, it's Friday. The weekend is just within reach; however, you must get through an entire school day first. You walk sluggishly with fatigue as you leave your first class of the day and you pass by several people rushing to Dr. Barrow's room talking about "donuts" and "Dance Club". Your exhaustion is overcome by curiosity, and you sprint to Dr. Barrow's room. You get there just in time to grab a nice, soft, iced donut from Dunkin'. After you munch down your donut, you see Just Dance playing on the board. You start to dance and think maybe today won't be so bad after all. 
Dance Club is a brand new club this year founded by sophomores, Mary Hollis Pugmire and Brinkley Williams. They started Dance Club, as Williams says, "to bring dance into the Athens Academy community".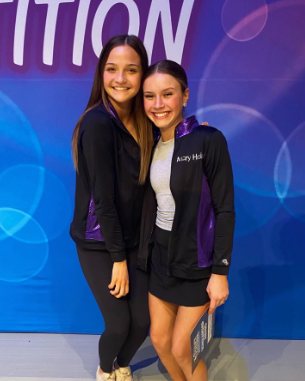 Williams and Pugmire are both competitive dancers who perform for Oconee Youth School of Performance, OYSP. Because of their busy dance schedule, they're unable to do extracurriculars after school, so they figured out a way to still bring the enjoyment of dancing to Athens Academy. 
Pugmire says "Dance Club strives to bring joy to everyone and help our members' mental health by providing a chance to stop thinking about all the stress of school" 
During their Friday morning meetings, members are able to chill and hang with friends and, most importantly, just dance! 
Make sure to also lookout for some exciting future plans for Dance Club. 
Williams says, "We encourage Dance Club members to go to Athens Academy Dance Marathon, which is made possible by CARE Club" and "hope to one day create a dance team at Athens Academy."