Spartans Win State Cross Country by "Bajillion Points"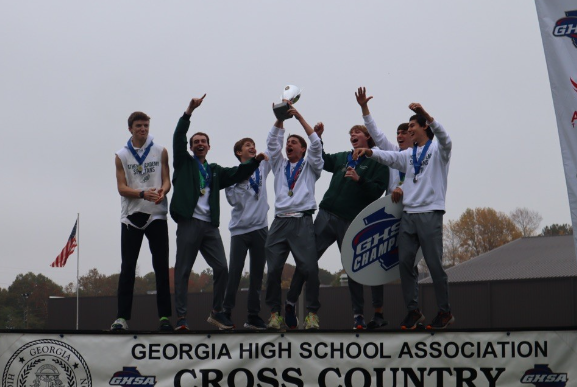 Friday 12:00 p.m. Athens, GA
The Spartan Cross Country team left classes and academic stress behind, boarded the large decorated bus (and also the un-decorated minibus). Two hours and a (rather urgent) bathroom stop later, we arrived at the State meet venue in Carrollton, Georgia. A brief, motivational speech was followed by a three mile jog to preview the course. Then, we drove to the hotel in Newnan. 
Friday 6:00 p.m. Newnan, GA
Chaos ensued when the lady at the hotel informed us that they did not have our reservations. At least they had our reservation for the conference room, so we could eat. That's all we cared about anyway. After some spaghetti and chicken (and an intense game of checkers), our coaches and a couple of parents had the situation resolved and crisis was averted, except perhaps for Mr. Farmer who volunteered (or reluctantly agreed) to host the entire girl's team to spend the night at his farm. The lads, however, split up and half went to stay in Carrollton, and the other half traveled to the Great Wolf Lodge where I suspect no one slept more than three hours.
Saturday 6:00 a.m. Carrollton, GA
Half asleep, seven runners nipped at breakfast, a banana and half a bagel. Then, we went to the course ― it hadn't changed from the night before. A cool breeze blew over Carrollton Elementary School as we jogged the warm-up; nerves no longer present; it was go-time. Numbers on, chips on, spikes laced up, we jogged to the start. The worst part of any race is waiting on the line, so I'll just skip to the race.
This race hurt; it always does. This is a hard course, hilly and deceptive. The Spartans ran hard and did enough. Jackson Scruggs finished 2nd in 17:22. Robbie Dillon and Will DeLoach finished 9th and 10th in 18:00 and 18:01 respectively. Walter Hequembourg finished 21st in 18:41 and Thomas rounded it out with a finish in 32nd in 19:11. Tom Hollingsworth and HT Garrard finished 61st and 73rd in 19:59 and 20:12 respectively. Solid race. 
With nervous tension building up, we paced about awaiting the official scores. In the end, we were shown the result by a stranger (a Providence Coach), and the joy was unreal. The Spartans finished 1st with 79 points and an average time of 18:15. This ends the ten year drought of State Championships for the boys at Athens Academy as Robbie made sure to point out in the post-race interview which is available on MileSplit GA along with completed results and video footage of the race.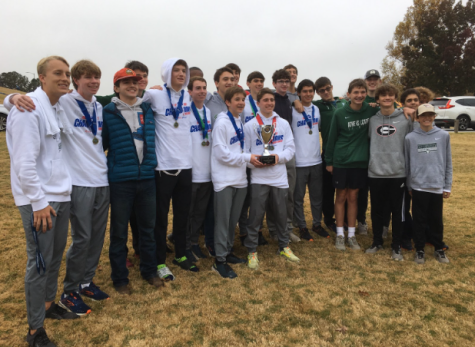 The celebrations were followed by a trip to McDonalds where a table with funny lights managed to entertain 20 boys for almost an hour. 
This caps off an incredibly successful season with both a Region and State Championship. The program coaches: Geoffrey Walton, Neville Anderson, and Zachary Farmer have built a noteworthy program. Well done and Go Spartans!