Italian Exchange: A Big Trip Overseas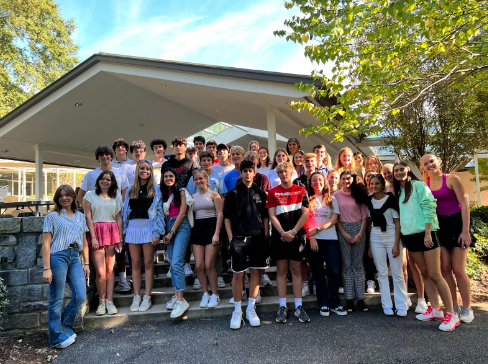 On September 24th around 7:30pm, 17 students and 2 faculty members from Liceo Corso in Correggio, Italy arrived on the Athens Academy campus. They pulled in on a traditional American yellow school bus into the Spartan Center. While the air was filled with nerves since this was the first exchange since before Covid, it was also filled with excitement for the next 10 days to come. 
Those days went by so fast. The fun memories were built up through nights out to dinner and laughs with new friends on campus. Although the Savannah trip got canceled due to bad weather, they still made the best out of it. 
"The Italians made school so fun! They were always so positive about everything and it was contagious," says Marie Rutledge, a host student and a sophomore at Athens Academy. 
They brought a new perspective into our lives and showed us how different theirs is from our own. They brought many smiles into their host families lives, as well as presents that reflected their lives in Italy, from handmade cheeses, aprons from small businesses, Ferrari gifts, sweatshirts, and more. 
"It was just nice to have a new group of people for a change. They had different interests and it made for great conversations. Especially on free periods to take a break from working on school and just talk about what they thought about the US," says Cohen Thomlinson, a current junior at Athens Academy. 
"My favorite memory was when my family took Matilde ax throwing. She had never been and had scarily accurate throws. I think she enjoyed being able to take her anger out while having fun with our family," says Veronika Babbitt, a sophomore at Athens Academy as well as one of the host students.  
Not only do they come here, but a select group of students also gets the opportunity to go visit Italy during spring break of 2023. This would be a great experience to immerse yourself in a new culture. 
"I am so excited to go to Italy and learn more about their lives both in and outside of school," Rutledge says. 
This exchange happens every few years. Liceo Corso is considered our "sister school" and Athens Academy also has one located in Germany. These schools are very beneficial for our student life, especially when people travel overseas to submerge themselves into a new society. 
"It gives students the opportunity to explore and educate themselves about the lifestyles of those across the world and make new friends," says Babbitt, a host student and sophomore at Athens Academy.