Flag Football: New Sport at Athens Academy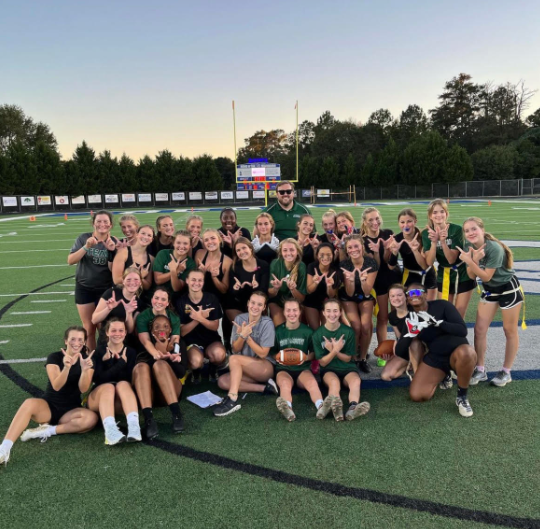 Girl's Flag Football has been an official Georgia High School Association (GHSA) sanctioned sport since 2020. Since then, the sport has rapidly grown to be included in many Georgia High schools' athletic programs, and this year has finally reached Athens Academy.
The idea of incorporating this entirely female sport into the athletic program has been in the works for the past couple of years, but the sport lacked student interest or support until this year. 
Along with this sport being new to Athens Academy, Flag Football is a new sport to many surrounding schools in the area which naturally lead to the popularity of Flag Football with the Athens Academy students. 
Luke Graves, Athens Academy Head Flag Football coach, said, "It will be very interesting to see the difference in skill between the newer Flag Football teams in the area versus the schools in the region who have already had a year to practice under their belt."
Graves has been at Athens Academy for seven years, who alongside coaching, is the High School Art teacher. 
Before coaching Flag Football, Graves was the coach for Athens Academy's wrestling team.
"I played football in High School, and even had a scholarship for it in college. So even though I did not go to college to play the sport, and will be coaching Girl's Flag Football, I still see a lot of similarities between the two sports," said Graves. 
What Graves anticipates will be the most challenging thing to deal with this year, will be making sure there is enough practice time for the team due to the amount of dual-sport athletes who are on the team. 
"There has been an overwhelming amount of support for the sport this year. There were upwards of thirty-five students who were interested in playing, and the fact that so many people in a relatively small school wanted to participate is incredible," said Graves. "All I am hoping is that the game will be fun for the players, and I am excited for the season. Football is a great game."