Trimpe Trekkin' – From a Student's Perspective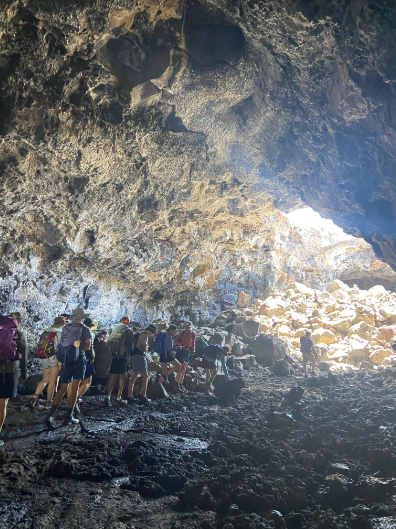 The blaring alarm near you wakes you up in your hotel room. You're so glad that you remembered to set it last night so that you could get ready for the day ahead of you. You eat breakfast, get ready, and pack your bag for the day, then step outside. The beauty amazes you. The mountains, that you don't see in Athens, pierce the sunrise and the warm morning air reminds you that it's still summer. 
The Trimpe Trek, although a geology course, is an exciting experience that immerses you in nature and helps you to make new connections. The pictures show the timelessness that the trip holds, but what really makes it special are all the stories that come from it. Mr. Skip Trimpe, the lead organizer and teacher representative, helps you to get through all the obstacles of traveling and helps to create a trip that you will never forget. 
Speaking on the shocking stories students acquired from the trip, Molly Smith, a student who attended, remarks, "We were flying back from Texas and a student got stopped by security for having a potato in his bag because they thought it was a bomb… I don't think I've ever laughed so hard." 
The memories on this trip are priceless and although you may stress a little about the school part, the laughter and camaraderie will get you through. 
"I feel like I gained a new sense of responsibility through this trip. You have to manage yourself and keep up with your academics as well as maintain the social aspect of the trip," says Smith.
At the start of everyday you would go to the grocery store to pick out your lunch. You had a budget and whatever you bought had to fit into your backpack. For dinner, you would go to a restaurant of your choice, also with a budget. Checking and changing the oil in a car, filling up a gas tank, and time management are also skills you obtain from the trip. These life skills are worthy knowledge for the future. 
"Although I did get a little bit homesick, the people on the trip were like family to me so I was able to get through," says Veronika Babbitt, another student on the trek. 
During the 2022 trip, there were many bumps in the road. For example, students didn't get into Yellowstone, go white water rafting, or go to the research center. You won't skip a beat with last minute setbacks though, and it's promised to you that the chaperones have seen it all and you will still have gratification for the astonishing trip.
"It is an unforgettable trip that gave me memories that I will never forget," says Marie Rutledge, a student on the trip.
For current 9th graders and even younger, this should be a trip worth looking forward to. Whether it is going to be one year or five before you can go on this journey, it is definitely one that you should keep in the back of your mind. From a students perspective, this is an educational yet entertaining trip, and a great way to secure an amazing memory to look back on.