Elvis: Recollections from fans of the musical legend
Previously published in the Oconee enterprise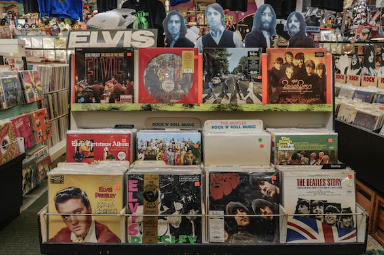 The house lights were turned back on 15 minutes ago at the University 16 theater in Oconee County. The packed theater has cleared out, leaving just the hypnotic voice of Elvis playing from the speakers. The song "In the Ghetto" echoes across the walls of the theater, and the credits are rolling as staff begin to walk in, aiming to clean up for the next showing of Elvis. Upon first glance, the seats are empty, however a closer look reveals a group of women, seated directly in the center of the theater. They remain in their chairs past credits, so they can hear a song they have heard hundreds of times before. These ladies, affectionately referred to as the Atlanta Girls by Elvis himself, seem to be recalling memory after memory while watching this film for the seventh time. They leave with tear coated cheeks and nostalgia that feels more like grief for a time once lost. This was a time of youth, a time of unrestrained freedom, and arguably the most important to these seven women, a time of unfettered love for Elvis Presley. 
The year is 1973. The economy has recently fallen into a recession, troops have been withdrawn in Vietnam, and 7 young women just got invited up to Elvis's suite to meet Elvis following his stunning performance at the Omni in Atlanta. It is remarkable that these women, several of whom are Oconee residents, have any descriptive accounts from the several occasions they conversed with Elvis because, "we were always in a state of absolute shock." Linda Jackson, my grandmother and best friend, tells me, "Elvis was larger than life. He seemed to be equally down to earth and other-worldly." Toni, another one of the Atlanta Girls, remarks that Elvis was, "so kind and so charming. You felt like he was just another person. Like he was one of us." These women got to meet Elvis by originally meeting Charlie Hodge, Elvis's best friend. These seven women, all of whom are absolutely stunning, and to this day are still incredibly kind and beautiful, were not even 25 yet, a feature that Elvis himself pointed out. "He said to us, 'I bet there isn't one of you who is 25' and we just shook our heads," says Toni. Following their first meeting with Elvis, they were left with amazement and shock having just met the biggest music superstar of the 70's. Yet they seemed to be hyper focused on giving Elvis a gift, not just to return the favor of being so kind to them, but to leave a lasting impression, and they believed that a piece of jewelry would be especially treasured by him.  This subtly vintage, eye-catching necklace was a gold cross with tourmaline stones implanted into the base of the necklace. "It was just gorgeous," says Toni, "it just looked like Elvis to me." These women had to purchase the necklace on a club payment plan, as it was $750, which is about $4500 today, and had to pay it off monthly. However the expenses did not interfere with their plans, and they intended to return Elvis's generosity, regardless of the finances. They went to his show at the Omni theater on June 28, restless with anticipation as to if they would be let up into his room for a second time. Following the show, which was described as "remarkable," the girls waited in the hotel lobby. Kenny Hicks, another one of Elvis's personal entourage, lovingly referred to as the Memphis Mafia, told the girls that Elvis was not planning on having much company, but would allow three of the girls to come upstairs. Linda and Toni being two of them. "I stood up first," says Toni with a sweet smile, "because I knew that I would be going."  Toni tells me, "As we went into his room, we saw him. He was standing around his friends,  and he was singing with no music. He just sang three gospel songs as we stood there and listened." After informing Elvis that they had a gift for him, Toni tells Elvis that there are four more girls downstairs that helped buy the gift. Linda states, "He looked at Kenny and said, 'Go down there and get those other girls.'" Elvis was thrilled with the gift, yet what struck a chord with him the most was a heartfelt letter written by Linda. "You could tell he really liked his gift," states Toni. The girls were told that Elvis wore the necklace to sleep, and they "basically hit the floor." The necklace was given to a young girl at one of his concerts, and has recently been auctioned off. Yet the memories of the cross necklace seem to live with the women to this day. The Atlanta Girls had several other encounters with Elvis, and they told me that this story was "just the tip of the iceberg, even an entire book wouldn't ever tell the full story." While watching the new film, they told me that they kept looking to see if Elvis was wearing the necklace in any of the original footage. 
Leaving the theater, Toni and Linda, who have remained best friends into their early 70's, listened to his music, turning up the volume as loud as possible. "Loving Arms" and "Hurt" are their personal favorites to listen to in the car, because of "the memories of hearing him sing them live." They played CD after CD of Elvis Presley's music, singing every single lyric, never forgetting a line.