The Met Gala Fashion Roundup 
This year's Met Gala was certainly a trip, and not one I'm particularly eager to take again. Without a doubt, the red carpet had its highs and lows, with the highs being exceptionally high, and the lows exceptionally low. The theme was "Gilded-Glamor," which according to Vogue  was meant to "build around the tenants of American style" and "celebrate unsung heroes of US design," meant to being the operative statement.  While the program was certainly entertaining, there were times where I found myself admiring the blouse of the girl in the State Farm commercials during the ad breaks. Yes, it was that bad. However, while few, there were some show-stoppers in the mix.  
 Let's begin with the best outfit of the evening,  Blake Lively's custom Versace dress. Not only did it perfectly fit the theme with its tributes to the Statue of Liberty and Grand Central Station, but she also rocked the red carpet as one of the first celebs to walk. Originally, she entered wearing a bronze colored dress, but it later unraveled to reveal a turquoise underside meant to represent the oxidation of the Statue of Liberty. Overall, I think she was by far the best dressed, and did a wonderful job adhering to the theme. 
Rating: 10 / 10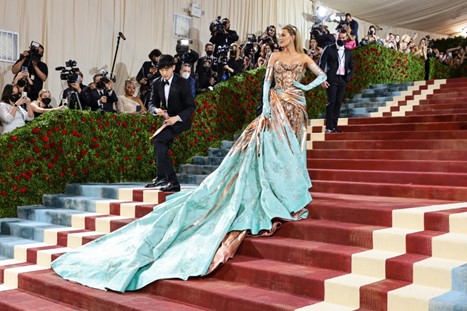 Falling in at number two  is Shawn Mendez.  He looked especially dapper in his Tommy Hilfiger coat fit for a new and improved Mr. Darcy. While the look didn't take as much of a modern approach, it's easy to admire the classic early 1900s clothing, which fits the theme beautifully. Overall, Shawn Mendez pulled off the look and looked good doing it.
Rating: 9.5 / 10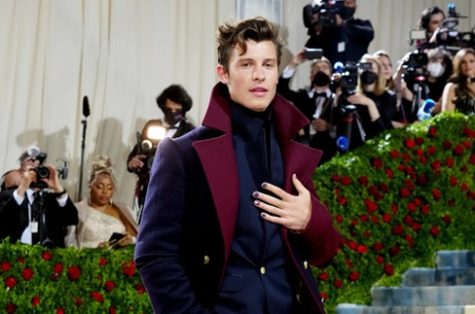 If you didn't already have a crush on Austin Butler, you almost certainly do now. Butler was dressed head to toe in Prada, with a black coat, black pants, and (you guessed it) a black shirt. While the look wasn't too flashy, the jewel encrusted pin attached to his silk scarf, as well as his diamond chain, certainly pulled the look together. Overall, the look was simple, yet pleasing to the eye. 
Rating: 7 / 10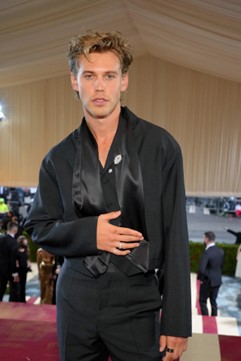 Coming in at number three is Hailey Beiber. It's fair to say that she took the safe route with her floor-length white Saint Laurent dress, but it didn't make her look any less fabulous. As far as proximity to the theme, however, Bieber didn't do the most, which brings her score down a few points. Overall, while it didn't fit the theme as well as some others,  her dress was chic and classic.
Rating: 6 / 10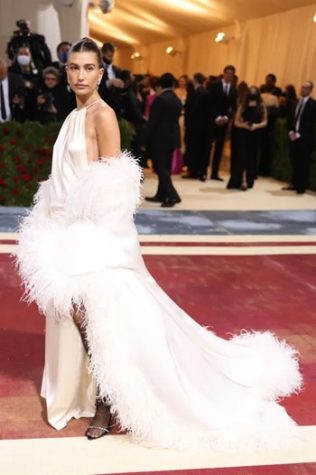 Last, but certainly not least, is Taylor Hill in her stunning Miss Sohee gown. Honestly, I'd be surprised if anybody knew who she was before this year's Met (apparently she's a model), but she can certainly run the red carpet. Her dress was embroidered with large, intricate flowers, which was just the unique spark we needed to make the night complete. While her gown is in fact a "ball gown", it fails to represent the entirety of the American theme, and I wasn't a fan of her thigh-high boots, costing her a few points. Overall, Taylor Hill looked elegant and relatively close to the theme. 
Rating: 5.5 / 10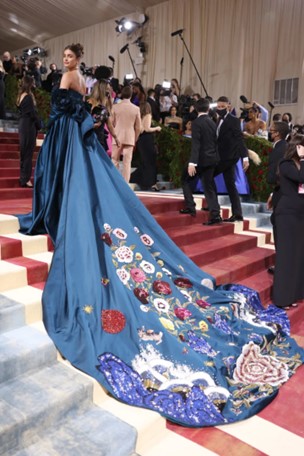 Beginning the list of the WORST Met Gala outfits of 2022 is, unfortunately, a tie between Kylie Jenner and her sister Kendall. I don't know which is worse–Kendall's forgetting to bring eyebrows or the backwards baseball cap sported by Kylie. While the Virgil Alboh dresses would have been acceptable without their horrific choices in accessories, and they technically fit the theme, they must pay the price for their poor decisions. 
Rating: 2 / 10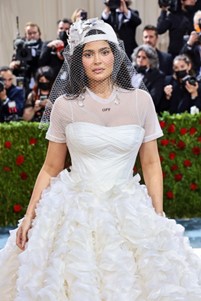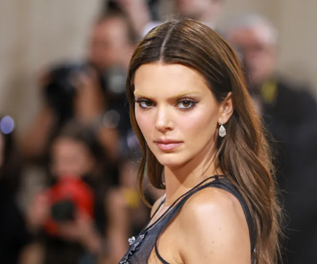 Coming in next, Gigi Hadid did a great job blending into the carpet in her massive red Riccardo Tisci puffer jacket. While the tight suit beneath wasn't the worst look I've seen, a floor length coat certainly was. She may have played it close to the theme of "Gilded Glamor," but she looked like a fire hazard. Overall, it's a no from me.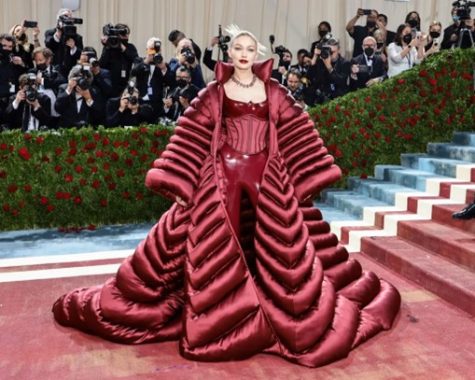 Rating: 0 / 10
It seems the Kardashian family members have really outdone themselves this year, with Kourtney coming in with the third-to-worst look yet. Looking at it, I don't get it, and I'm not sure whether I want to. Designed by Thom Browne, Kourtney's dress features absolutely nothing in correlation to the theme. In fact, she stated that she "didn't really think" about the theme when she was choosing her look. This, Kourtney, is why we don't trust designers who can't spell either of their names right. 
Rating: -4 / 10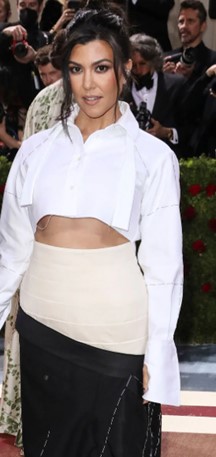 Cole Sprouse's look was certainly something, and spoiler alert, it wasn't something good. And to think, he used to be such a cutie on "Suite Life of Zack and Cody," and now here he is, on the Met Gala red carpet, dressed like he's off to see the wizard for a new heart. I'm sorry, but a thousand sequins don't make this a look, and he didn't fit the theme. Next!
Rating: -6 / 10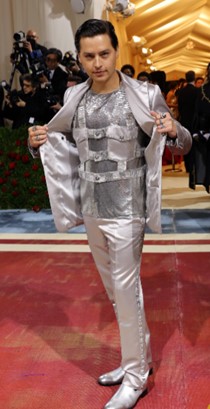 And last and giving the least is Jared Leto. There are no words to describe how heinous this look is, and Leto appears a bit frightened by it himself. While it is certainly striking, I cannot comprehend how he walks down the red carpet in whatever that thing is, both physically and emotionally. He looks uncomfortable, and quite frankly, it's uncomfortable to look at. 
Rating: -10000 / 10