Josie Collins: #1 Middle School High Jumper in the Country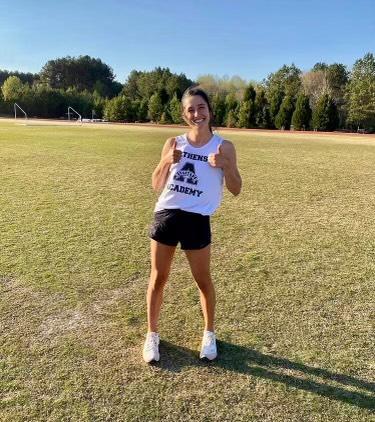 Ever wonder what it's like to leap over five feet in the air? Well, eighth grader Josie Collins knows this very well. 
The track star recently set a personal record of five feet seven inches and was named the number one middle school high jumper in the nation. 
"I love high jump because it's so rewarding when I practice and tweak things for so long and  then I am able to clear a goal height," Collins said.
Collins started track in seventh grade and took the leap of faith of trying high jump. Little did she know how much she would excel.
"As a 7th grader, Josie was new to high jump.  She was just figuring it out…I was a little worried that she might put extra pressure on herself this year, but on our first meet, she went out and jumped 5'5″ to beat the school record. We were surprised to see that her jump was also the best jump in the country for middle school," said Geoffrey Walton, head coach of middle school track.
There are many different events that participants in track and field can choose to compete in. Collins had her mind set on long jump but when she found out about high jump she decided to give it a chance.
High jump is a challenging event, and it comes more naturally to some people. But Collins says to "go for it"–that's what she did, and she has fallen in love with it. 
"Josie is incredibly hard working.  She shows up every day and is ready to get better.  At the meets, you can see that she has the confidence that she is going to do well," Walton said. 
Collins also competes in both the 4×100 and 4×400 relay teams and loves being part of the track team. She has inspired her younger brother, Baynes Collins, to run track for Athens Academy when he is older. 
"It is neat to watch her teammates cheering for her while she is jumping, then she will cheer for them as they compete in their events.  I think all competitions are more fun when you have teammates to celebrate with," Walton said. 
With Josie and some other 8th graders moving up to high school next year, Walton thinks that the Upper School track team could be competing for a state championship trophy. 
"I want to continue to work on my form and technique so that I am able to run faster and  jump higher. This season I would love to break the middle school state record at the state meet," Collins said.