How We Heal From Within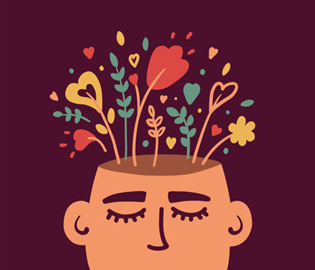 As the frigid Georgia weather eases into spring, the students at Athens Academy are gearing up for the home stretch. It has been a long school year, with many students juggling more than they can balance. 
Everyone on campus has been trying to readjust to normalcy following the pandemic. This has not been an easy task and has taken a toll on students' mental health. Numerous students have reached out for help and fortunately, help is available right here on campus.
Bob Sears, director of student services and a National Certified Counselor, notes an uptick in student counseling sessions following the Heads Up For Harry assembly, where members of a non-profit organization visited Athens Academy to discuss mental illness and talk about how it may be healed.
"Students are struggling more," he says. "The students here are particularly stressed because they have more rigorous workloads." 
He says that the pandemic has added to this stress, not only because it is volatile and unpredictable, but also because it has divided people as they respond to vaccines, mask mandates, and quarantines.
Sears meets with as many students as he can but concedes that many counselors in other communities simply have insufficient time to meet the demand.  Compassion fatigue is common among counselors. Indeed, many are too drained emotionally to help those students who need counseling.
He suggests online counseling services like Talkspace and BetterHelp for those who wish to seek guidance beyond campus, though these alternatives should not substitute for an in-person meeting if one is available. 
For students who are struggling at Athens Academy, he encourages them to come to him or any other trusted adult for help.
"Be honest with yourself if you're struggling. There is no shame in asking for help, and it's important to learn to keep everything in perspective. Most struggles that humans experience can be easily resolved by talking to people who can help," Sears says.
Despite the high stress levels in high school, there exists a strong support system at Athens Academy.  One choice for stressed students is the Peer Support Project. This club is sponsored by US drama teacher Lorraine Thompson, and its members are involved in both athletics and the arts.
Together, they create posters to lift spirits on campus and aim to be "a voice for inclusivity and acceptance," member Eliza Connolly says. She believes that this club has helped promote solidarity among her peers and an understanding of personal differences, interests, and aptitudes.
Many students feel that the energy levels at Athens Academy are not what they once were. It is important to validate these feelings of stress and exhaustion, because only then can the community begin to rebuild the morale on campus.
"The morale at our school can be easily restored if we all come together and think of resolutions," junior Chamberlain Lunceford says. "It's just a matter of learning to manage our stress." 
Counseling, peer support, and efforts to raise student morale are all helpful tools within our reach.  Working together to collectively reduce stress on campus will bring all of us to a new healing within.