Lena Ungerman: Student Spotlight with Level Eight Gymnast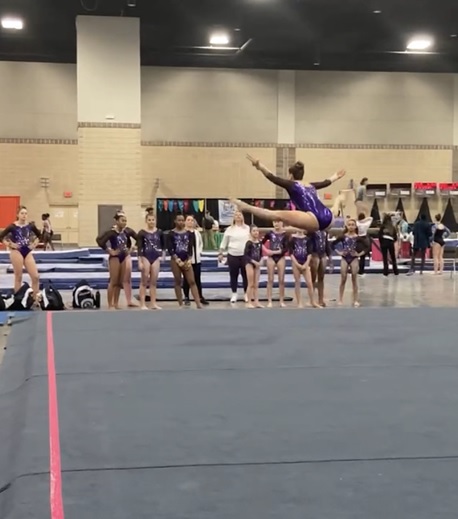 At 4 years old, Lena Ungerman began her gymnastics career with a Mommy-and-Me class in Utah. 
"I loved it so much. I specifically remember walking across the little beam and doing ice cream scoops," Ungerman says.
While many girls take gymnastics classes in pre and elementary school, most do not find themselves at 16 spending 5 hours a day practicing level 8 gymnastics skills for national competitions. Although she performs very complicated passes, Ungerman does not often find herself panicking before competitions. 
"When I'm getting ready for a meet, I don't get as nervous as most other people…  I just get out there, and I know that I've practiced as much as I possibly can. It will go how it goes and I can't really do anything about it other than try as hard as I can in that moment. If I fall, I just need to get back up and keep going," she says. 
As the oldest member of Georgia Elite's gymnastics team, Ungerman takes on a major leadership role for the younger gymnasts. Not only does she help critique skills, but she also tries to help support her teammates in the mental side of gymnastics. 
"I've become really attuned with how I can help them if they're struggling because there's obviously a huge mental component to gymnastics. My team leans on me for support when they need it, and I try to be the best role model for them that I can. But people struggle a lot outside of gymnastics as well as in it. Gym has helped me tell when to help out and when to back off at school as well when people are struggling," she says.
Gym is more than just a physical and mental sport to Ungerman: it's also a social event. Through her experience at over 5 gyms, she has learned that friendships made in the gym can last a lifetime. 
"I enjoy getting to see my friends every day. At gym, we don't really talk about just gymnastics, we talk about our lives. I like being able to see a new set of friends at night who I don't get to see during the day. I'm also still friends with people at my gyms in California and Virginia, which were years ago. "
As the 2022 season has just begun, Ungerman has only competed in one meet. Although it wasn't her best performance, she still placed in all four events (floor, vault, beam, and bars). As the season continues, she hopes to improve her skills and continue to support her friends in the gym, and outside it.