The Flying Biscuit Cafe: A Traditional Southern Breakfast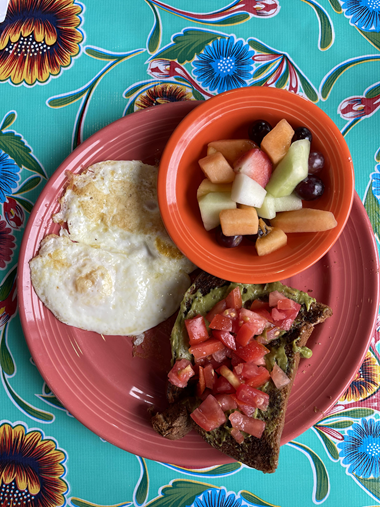 The Flying Biscuit Cafe, located in Normal Town, is a new establishment which has become increasingly popular for its traditional Southern dishes. Since its opening on March 29, 2021, the new location for the predominantly Atlanta-based franchise has been swarmed with customers.  
Walking in, customers are immediately greeted by the vibrant colors and patterns that envelop the entire restaurant. Modern light fixtures hang from the high ceilings, complementing the bright blue walls depicting "flying" biscuits with wings and halos. Once seated, the eye-catching paisley patterned table and chair covers lighten the mood. One's attention then turns to the large mural filled with images of rainbows, biscuits, and wings.
The aroma of coffee and bacon fills the room as upbeat music plays. The chatter of families and college students and clanging of silverware can be heard. The friendly staff makes sure to seat all parties quickly. The table service was excellent, our drinks came almost immediately, and the waiter was very patient as we debated what we'd be having.  
The Flying Biscuit Breakfast is one particular stand-out dish, which includes two eggs served with two signature chicken sage sausage patties, "creamy dreamy" grits, and a "fluffy flying" biscuit. The stacked sausage patties sprinkled with black pepper have a slight kick and are accompanied by two eggs cooked to one's liking. The biscuit is accompanied by a side of soft butter and cranberry apple butter. Another included side is the "creamy dreamy" grits, salted to perfection. 
The California Dreamer, another stand-out dish, includes whole-wheat toast loaded with a fresh mashed avocado spread and diced tomatoes. The crunchy toast complements the creamy avocado, leaving one refreshed and full. Also served with a side of two eggs and sliced fruit, the California Dreamer truly is an outstanding and nutritious breakfast option. 
Last but not least, the heavenly GA Peaches and Cream Waffle Breakfast comes with two signature chicken sage sausage patties, "creamy dreamy" grits, and a house-made golden Belgian waffle. Topped with sweet warm peach compote, honey crème anglaise, and whipped cream, this to-die-for meal comes with a "fluffy flying" biscuit on the side to top it all off. 
The Flying Biscuit Cafe definitely did not disappoint. Their service, food, and overall vibe in the restaurant was outstanding. I believe that fans of Mama's Boy would also enjoy this restaurant.