Hoofbeats in the Streets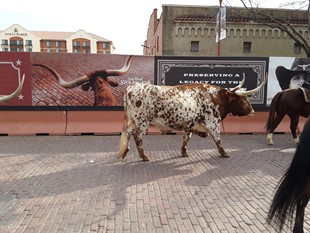 Twice a day, every day, the sounds of horse and cattle hoofbeats echo down the main street of downtown Fort Worth, Texas. When walking down the streets of historic Fort Worth, it's easy to imagine living in the early American West. Just looking at the horses jogging behind sleek longhorns, the vintage buildings, and the original street signs, the average person would think they had been transported back to the 1850s, a time when cattle drives were a major part of the economy. 
The biggest draw to the historic town is the cattle drive that occurs every day, weather permitting, from 11:30 a.m. to 4 p.m. Along the sidewalk, hundreds of excited spectators gather to gaze at the horses, cowboys, and longhorns that walk through the streets of downtown. In the late 19th century, cattle drives, where cowboys on horses move a herd of cattle from one place to another, were a vital part of daily life. Drives lasted around three to five months, and the cattle traveled an average of 15 to 25 miles in each drive. While Fort Worth is not the only town where massive drives occured, it is the most famous, earning the nickname "Cowtown." 
While the daily cattle drives are the most famous trademark of Fort Worth, there are many other enticing sites including the Texas Cowboy Hall of Fame and the Stockyards Museum. Despite the small historic downtown, there are also parts of the city that are busy and metropolitan. Fort Worth boasts one of the best zoos in the nation and many other museums, such as the National Cowgirl Museum and Hall of Fame and the Kimbell Art Museum. 
In March of 2019, I was able to visit this historic town and experience the cattle drive. Watching the horses and cattle move down the street was a wonderful experience, and I would love to see it again. I was also able to dine in a historic hotel in the Stockyards and visit the National Cowboy Hall of Fame. Fort Worth embodies a crucial part of American history and provides a rich, historic experience for people of all ages.