I Survived Chuck E. Cheese: The Workers' Stories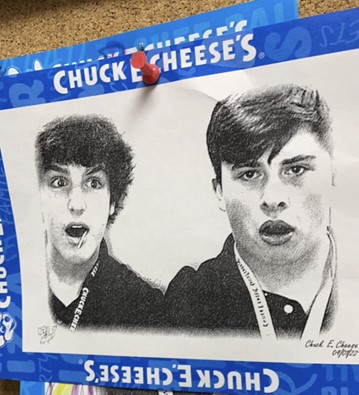 *The following story is a tongue-in-cheek account of working at Chuck E. Cheese. The students highlighted remain thankful for all of their employment opportunities. 
I am sure everybody has heard the news that three Athens Academy boys started working at Chuck E. Cheese (CEC). I am here to tell you what working there is like because I am one of those three. I am AJ Chambers, and this is inside the minds of the workers of Chuck E. Cheese.
I first interviewed Cole Dowd. Dowd worked at CEC for about two months. He worked in the position of Kid Check. 
"We stand at the front and make sure that everyone that comes in together leaves together by giving them a little stamp," Dowd says.
It is a simple and easy job, but it is a very important job. Dowd describes the job as being somewhat uneventful.
"I just sit there all day and do not do much until the end of the day when I clean up stuff," Dowd says.  
He passes the time by talking to his work friends and playing the arcade games in the store. Speaking of cleaning up stuff, even though the job can be repetitive, he will miss one thing the most.
"I'll miss the smell …it's the cleaner smell," Dowd says. " I love that smell. I'll miss Chuckie, too." 
Dowd has learned a lot from CEC.
"From it being my first job I learned how the whole job thing works, getting paid, and other essential things. Knowing when your shifts are is very important and getting there on time. Also being an established human being is helpful." 
Dowd will miss this job, but he is glad he has a new opportunity ahead of him. Dowd plans on working at Marti's at Midday, a local sandwich shop on Prince Avenue.  
On the other hand, an almost traumatized Patrick Rodrigue had a different experience. Rodrigue worked at that establishment for only one month.
 He kept his job description short by only saying that it involved "getting in the suit."
 He said the easiest part of working there was to wipe down tables and  the most challenging part was his main job.
"The most challenging part is getting into the suit, it's gross," he added. 
 On top of that, Rodrigue said that this Chuck E. Cheese was also heavily understaffed. 
"You have to do stuff like wiping down more tables," he said. "Because nobody is there to wipe down the tables and the people already there won't wipe down the tables." 
Rodrigue said his mental health was very poor during his "experience." On the contrary, Rodrigue did enjoy his earnings.
"I used my earnings on clothes," he said. 
 If you see Rodrigue on campus, please admire his outstanding fashion. Finally, Rodrigue concluded the interview by stating that he has learned absolutely nothing from Chuck E. Cheese. There you have it, the inside scoop on CEC from the workers themselves.